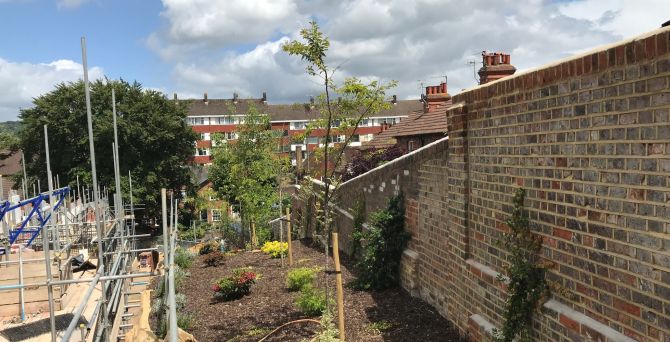 Back
18th January 2019
Press Statement regarding Mole Valley court action
Runnymede Homes was sentenced at Brighton Magistrates Court to pay a fine of £11,250 for the offence of uprooting three Beech trees in a Conservation Area on safety grounds without first informing Mole Valley District Council.
The council's tree officer, Mr Howe, agreed in Court that it had been "urgently necessary to uproot the trees on 29th September to remove an immediate risk of serious harm". The Court further acknowledged that the actions taken by Runnymede Homes were not deliberate or reckless, nor was there any gain, financial or otherwise, to the developer.
Managing Director, Mark Knight, said "The replacement of the dilapidated lower retaining wall, consented by MVDC, was carried out following careful engineering works designed to establish the stability of the embankment and to ensure the support and long term security of the higher old flint wall boundary with Back Alley. Before the planned temporary retaining structure could be positioned, an undetected area of 'made ground' slumped beneath the trees, resulting in the trees tilting and presenting a danger to people and property."
Mr Knight added "We much regret the loss of these three trees, which formed an important element of the southern boundary landscaping of our development. As a company, we have a strong sense of care for the environment and we have a long established reputation for the quality of our landscaping and attention to wildlife habitat issues, including the recent provision of a "hedgehog highway" through our development in the Windlesham Conservation Area at the request of the local interest group."
"Runnymede Homes wrote to MVDC's Tree Officer immediately after the incident behind the White Horse proposing new planting and requesting guidance on suitable and preferred replacement trees. MVDC has declined to respond more than 15 months on."
Runnymede Homes planted seven new replacement trees in the space concerned a year ago and further landscaping will follow. Mr Howe has agreed with an independent Arboricultural Consultant that larger trees would not be suitable for planting in this location.
In imposing a fine of £11,250 District Judge Szagun said that the offence was the lowest category of negligence and made a reduced costs award of £5,050 to MVDC, taking account of the council's laying nine entirely false charges without premise and a further six charges dismissed at the first hearing.
Responding to Councillor Chris Hunt's statement "We will always seek to take legal action where appropriate", Mr Knight commented "We accept the findings of the Court and trust that the council will engage positively with us as we seek to finish the White Horse Mews development and provide high quality homes to replace the 1960's accommodation block which previously occupied this site."